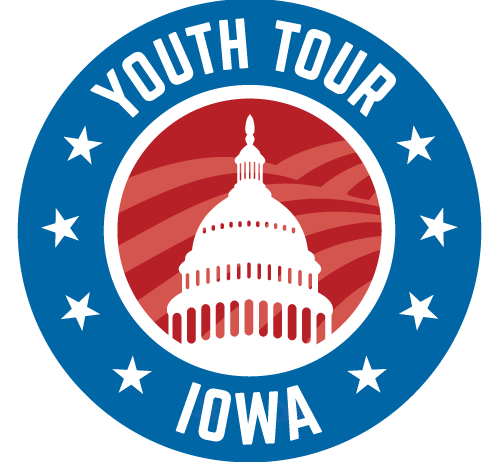 Next Iowa Youth Tour: June 17-23, 2023 
For over 50 years, Iowa's electric cooperatives have sponsored high school students from all over America to visit our nation's great capital. Approximately 40 high school students are chosen by local electric cooperatives from across the state of Iowa every year. The Iowa students join with more than 1,800 students from co-ops around the country for the national Youth Tour in Washington D.C. in June. Prairie Energy is proud to sponsor one high school junior or senior on this all-expenses paid trip of a lifetime. 
Some of the things students will do and see on Youth Tour: 
Washington Monument
World War II Memorial
Albert Einstein Memorial
Franklin Delano Roosevelt Memorial
Vietnam Veterans Memorial
Boat cruise on the Potomac River
Holocaust Memorial
Madame Tussauds Wax Museum
Ford's Theater
Korean War Veterans Memorial
Lincoln Memorial
Washington National Cathedral
Mount Vernon
Iowa Jima Sunset Parade
White House
U.S. Capitol Tour
Follow Iowa Youth Tour on Facebook for the latest details.
Your entry form can be hand delivered, emailed, or mailed to:  
Prairie Energy Cooperative, P.O. Box 353, Clarion, IA  50525
Email: djohnson@prairieenergy.coop or cchapman@prairieenergy.coop
For any questions regarding the Youth Tour experience or application process, contact Chad Chapman or Darren Johnson at 515-532-2805